The true story of an unemployed single mum turned detective and lawyer, who takes on the big shots accused of polluting a small-town water supply.
Director: Steven Soderbergh
Writer: Susannah Grant
Cast list
Erin Brockovich: Julia Roberts
Dr. Jaffe: David Brisbin
Rosalind: Dawn Didawick
Ed Masry: Albert Finney
Donald: Valente Rodriguez
Brenda: Conchata Ferrell
LA Judge: George Rocky Sullivan
Defendant Lawyer: Pat Skipper
Defendant: Jack Gill
Mrs. Morales: Irene Olga Lopez
Matthew: Scotty Leavenworth
Katie: Gemmenne De la Peña
Waitress: Erin Brockovich (the real one!)
Erin Brockovich: The Plot
Erin Brockovich provides film-goers with the true story of a woman that transcends her environment, takes on the big dogs, and succeeds. Erin, played by superstar actress Julia Roberts, is a mother of three young children, twice divorced, has only a basic education, and can not find a job to save her life.
Erin finds herself unable to pay the rent for her tiny apartment after a failed lawsuit against a wealthy doctor when his speeding car broadsides hers. She has absolutely nothing to lose, so takes a gamble and turns up at her lawyer's office, Ed Masry, for work At first he does not want to recruit her – she is highly unskilled, remember – but she point blank refused to take no for an answer. He gives in and gives her a job, despite her confrontational personality. Of course, he has NO idea as to what this seemingly unimportant decision will bring to both of them and the effect it will have on their lives.
For a while, Erin performs basic clerical duties until one day, a particular case catches her attention. It involves some slightly dodgy looking real estate deals and strange sickness in Hinkley, a small Californian town. It looks suspiciously like the power company involved is poisoning the water supply. She turns detective and investigates the case herself, leading to the largest ever direct-action lawsuit settlement in the USA.
While all of this is going on, she meets George, a softly spoken, gentle biker who wins her respect and eventually her love. While she is out fighting the big guys, he is helping to look after her kids and providing a little bit of stability.
Plot tagline: She brought a small town to its feet and a huge corporation to its knees.
Genre: Biography, drama
Certificate: 15
Parents Guide: Content advisory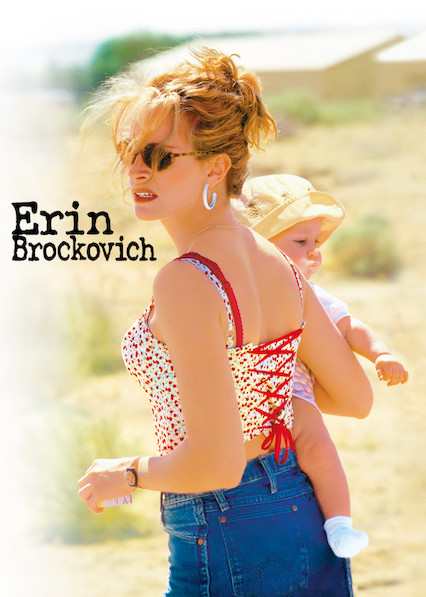 Erin Brockovich Fun Facts
It was thanks to Erin Brockovich's chiropractor that the film was made. During a consultation, chiropractor Carla Santos Shamberg told her about one of her other patients, Erin Brockovich. Carla told her husband Michael Shamberg, the producer and well, it all went from there!
Erin Brockovich wanted Goldie Hawn to play her. She said, "I hope it's someone funny like Goldie Hawn.' And Ed would say, 'I was thinking of someone more like Roseanne Barr.' And I was like, 'F**k you, Ed,' and he would laugh. He said, 'All kidding aside, kid, I don't care who it is as long as it's not Julia Roberts.' He said, 'She has no t**s and no foul mouth, so it wouldn't work.'"
– Scott J. Cooper Net Worth By Actors –
Julia Roberts won an Academy Award for best actress for her role as Erin Brockovich and famously forgot to thank the real one in her acceptance speech.
The real Erin Brockovich had a role in the film named after her. She played a waitress named Julia. Before that scene was filmed, director Steven Soderberg kept Julia Roberts and Brockovich away from one another so that Roberts would not be influenced or tempted to imitate her.
Julia Roberts received an unprecedented salary for her lead role, making her the first woman to break the $20m barrier.
Movie Goofs
The movie is set in the early 1990s. There is a scene where they are playing the Harley Davidson Authorized Edition of Monopoly, which was not released until 1997.
In the movie, Erin claims to have been Miss Wichita as a younger woman. The real Erin Brockovich-Ellis was, in fact, Miss Pacific Coast.
Quotes
"What Makes You Think You Can Just Walk In There And Find What We Need?" "They're Called Boobs, Ed."
Because of her confidence in her appearance, Erin faces judgement from both women and men. She wears clothes that are revealing and refuses to be boxed into a stereotype because of it or apologize.
"I don't need pity, I need a paycheck."
Throughout the film, much of Erin's identity is tied to her being a single mother and the difficulties that come with that. She doesn't think that people should hire her because they feel bad for her, but because she is a more than capable worker.