Murder in Miami: A Sexy Thriller Murder Mystery
Murder in Miami, released in 2014, is a Film Noir sexy thriller murder mystery. Written and directed by Will Vazquez (best known for Mysteries of the Opposite Sex 2008), the movie never took off. The cast featured Joseph Myers (best known for Hacked 2015), Caroline Gutierrez (best known for Pet Therapy 2015), and Oscar A. Diaz, the recipient of several awards including Best Actor at the Miami Film Race 2007 and Best Actor at the Miami Underground Film Festival in 2008.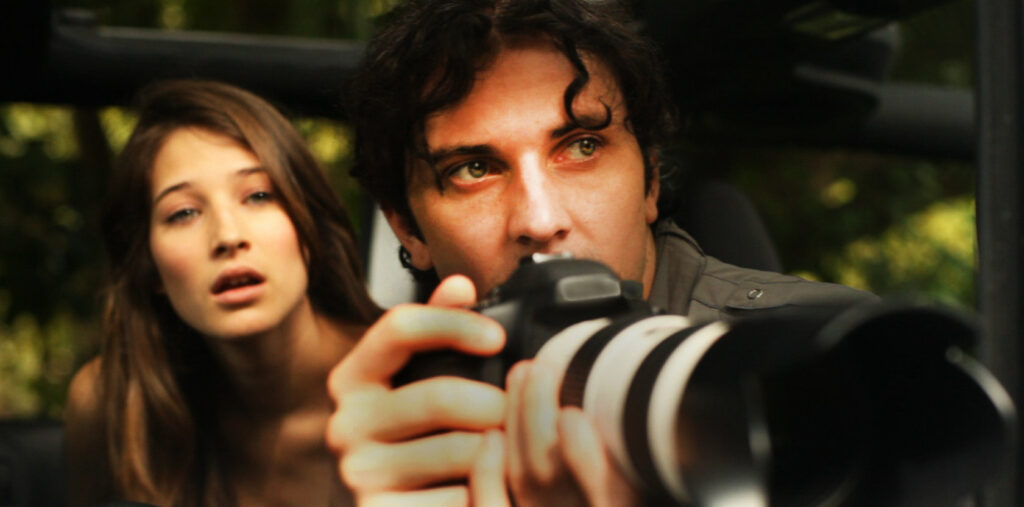 After several beautiful models are murdered in brutal ways by a disguised serial killer, a successful fashion photographer finds himself the primary suspect. As time goes on, more women find themselves the victim of the masked murderer, the ante is upped. The photographer embarks on a race against time to prove he is innocent and save his own life. The film follows him as he uncovers some unsavory secret about the seemingly beautiful city in which he lives.
Will Vasquez Was Inspired By The Evening News
Director Will Vázquez states that the inspiration for the film came from watching the evening news where a story was broadcast about the murder of a young out of town model, who had last been seen leaving a Downtown Miami nightclub. He thought this could be a great premise for a movie. Miami is known for many things that it is proud of, but it is also known for a few things that it would like to keep secret – particularly its after-hours nightlife.
Being a big fan of beautiful women, Vázquez says that that part of the stylistic attempt in the film was to light women up to make them look as beautiful as possible. He once worked for Playboy and understood how to pose women erotically and wanted a chance to do this in film. So using some of their techniques such as close-ups and a soft-focus filter, he has created something sexy for the audience.
If you like a bit of titillation, you may want to see Murder in Miami. Vázquez states he is also a fan of Alfred Hitchcock and wanted to create something a little dark. There was a film called "Blow-Up" by Bernardo Bertolucci's that depicted the story of an English fashion photographer in the sixties, this really gave Vázquez food for thought, as this film made fashion photography look like an excellent vocation.

Murder In Miami: A Bit of A Letdown
The initial opening scene was very promising, where one of the models goes home and is unaware that the masked murderer is watching her. He viciously beats and disfigures her, eventually throwing her off the balcony. Making it appear as if it was a crime of passion. The photographer becomes suspect number one, as he had a connection with her. However, after this opening scene, it kind of falls apart and does not live up to expectations.
The acting is not up to scratch and is stiff at times. In fact, it seems to get worse as the movie progresses. The script does not fare much better. There is a pointless scene where two police officers go on about what they had for dinner, which does not lighten the mood; it just seems out of place. The film does have a lot of breast shots, so if you like breasts, go for it. However, as long as you like weird cinematic views of Miami during the day and night, it will suffice.
Unfortunately, the film is a bit boring and slow. Even though there are some interesting things going on, the film never really seems to grip the audience.
Read Eva's Review of Kourtney and Kim Take Miami!